Overview
Additional features, which expand the functionalty of TurboSFV.
Queue validation jobs
| | | |
| --- | --- | --- |
| TurboSFV LE: | TurboSFV PE: | TurboSFV CE: |
In case of longer validation processes, TurboSFV provides the facility to add more validation jobs to a queue: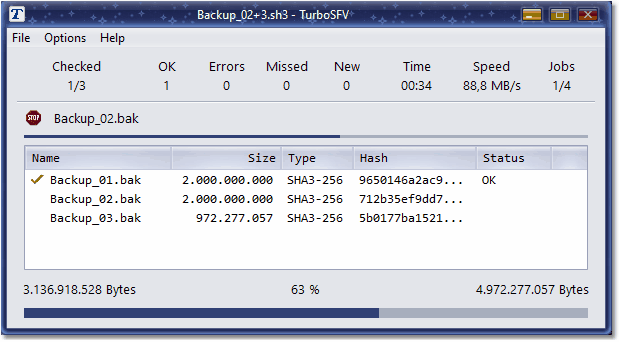 TurboSFV proceeds validation jobs first-in-first-out (FIFO) and adds files to be validated to the list. The number of completed jobs in relation to all jobs is indicated.
File size check
| | | |
| --- | --- | --- |
| TurboSFV LE: | TurboSFV PE: | TurboSFV CE: |
If one of the hash algorithms from the families SHA-1, SHA-2, SHA-3 or BLAKE2 is selected, then TurboSFV can keep track of the file size of each hashed file. During the validation, TurboSFV then checks the file size again and treats files as bad whose file size differs from the original stored value - even if the detected hash value is correct.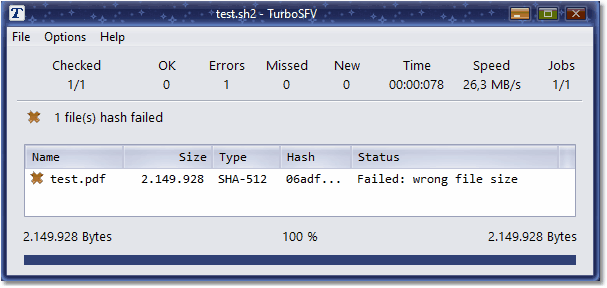 This provides a piece of more security and makes it for attackers harder to break the hash algorithm.
Digital signatures
| | | |
| --- | --- | --- |
| TurboSFV LE: | TurboSFV PE: | TurboSFV CE: |
All executable files of TurboSFV are digitally signed. By checking the digital signature (this tab is available in the file properties), you can ensure that the file has not been altered after publication.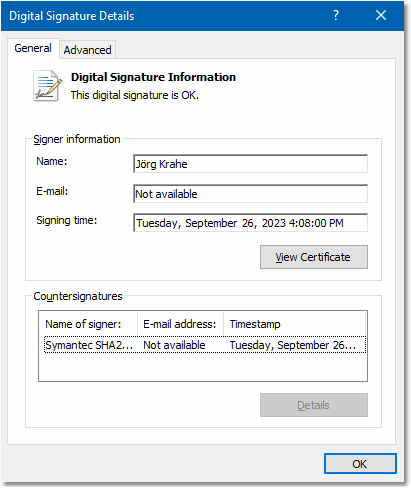 Check out page Digital Signatures for more information.
UNC paths
| | | |
| --- | --- | --- |
| TurboSFV LE: | TurboSFV PE: | TurboSFV CE: |
TurboSFV supports UNC (Universal Naming Convention) paths: Thus you can calculate checksums for files, which are located on network resources such as "\\Server\Share\File".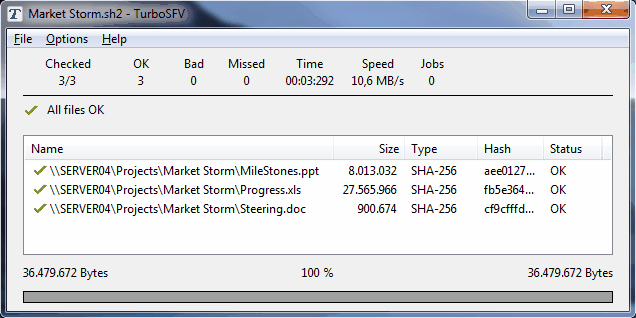 Also for UNC resources, relative and absolute paths are supported. You can even direct TurboSFV to save the UNC paths in case of mapped drives.