Overview
The Commercial edition (CE) of TurboSFV has all the features of the shareware edition (PE) plus the following extras.
Setup: Silent mode
| | | |
| --- | --- | --- |
| TurboSFV LE: | TurboSFV PE: | TurboSFV CE: |
The installer can be switched into a silent mode, which allows companies to distribute or update installations on workstations. An exit code provides information about the status of the installation.
The uninstaller provides the same functionality and can be used to remove an installation from workstations.
Default hash type
| | | |
| --- | --- | --- |
| TurboSFV LE: | TurboSFV PE: | TurboSFV CE: |
One or more hash algorithms can be defined as the company standard.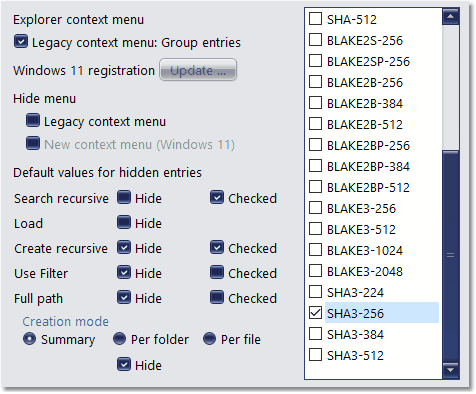 As a result, only the defined hash type can be selected in the file/folder context menu.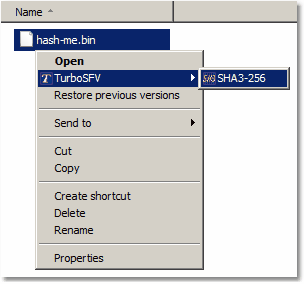 Special administration options
| | | |
| --- | --- | --- |
| TurboSFV LE: | TurboSFV PE: | TurboSFV CE: |
On this tab, system-wide settings can be defined. System-wide settings can't be changed by a normal user. This allows companies to customize TurboSFV according to their needs. The administration tab is only visible for users with administration rights.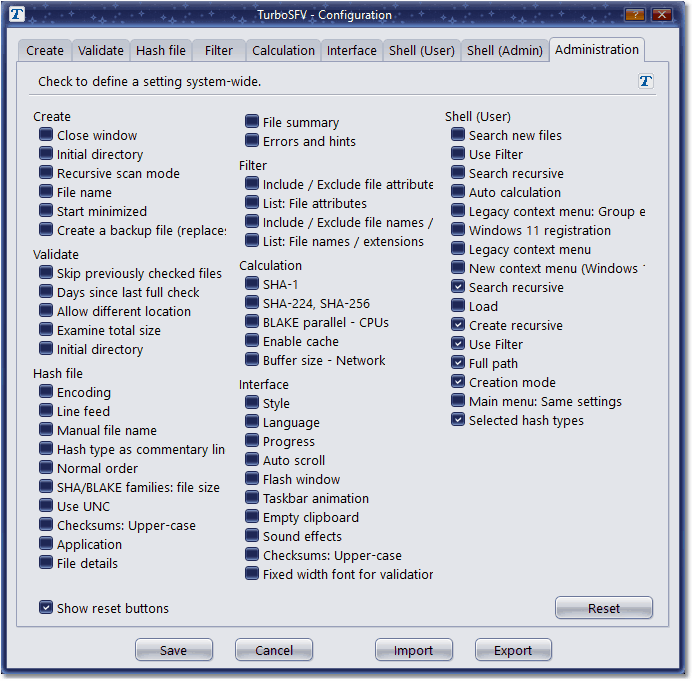 For example, by checking the four checkboxes as indicated in the picture above and by defining the appropriate values on the other tabs, the resulting context menu for folders looks as follows: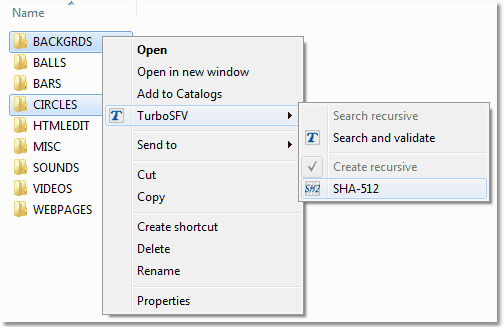 Company settings defined in this way can be distributed over the network.
Company key
| | | |
| --- | --- | --- |
| TurboSFV LE: | TurboSFV PE: | TurboSFV CE: |
Customers of TurboSFV (CE) get a special company key, which can be used to register workstations according to the number of purchased licenses. This key can be distributed over the network.
Mobile edition (ME)
| | | |
| --- | --- | --- |
| TurboSFV LE: | TurboSFV PE: | TurboSFV CE: |
TurboSFV (CE) includes a special mobile edition (ME, 32/64 bit), which can be installed on a removable drive such as an USB stick, for mobile use.
The mobile version can be directly started from a removable drive on all supported platforms. Special registry entries or privileges are not needed. All supported hash types (CRC-32, MD5, SHA-1, XXH32, XXH64, SHA-224, SHA-256, SHA-384, SHA-512, SHA-512/224, SHA-512/256, BLAKE2S-256, BLAKE2B-256, BLAKE2B-384, BLAKE2B-512, SHA3-224, SHA3-256, SHA3-384 and SHA3-512) are also available in the portable version.

The Mobile Edition includes the command-line versions, which can be used to create and validate hash values, if only a console window is available.

TurboSFV (ME) does not integrate into the host system, thus Shell extensions are not available. In ME, hash calculations and validations can only be started via the TurboSFV menu or the command-line.

Both, the command-line versions and the GUI version of the Mobile Edition also work in Windows PE (Preinstallation Environment - build WinPE v10.0.10586.0).